HAT READING
Regular price

Sale price

$500.00
Explore a profound journey of self-discovery with our Hat Reading Experience, available exclusively at our NYC studio. Guided by Mariela Alexandra, this unique service aims to help you tap into your authenticity and create a hat that embodies your true self, allowing you to connect with your core every time you wear it.
Step 1: Schedule Your Appointment
Book your in-person appointment at our NY studio. The studio address will be provided upon registration.
Step 2: Confirmation and Details
Expect a confirmation email with comprehensive details about your appointment.
Step 3: The Personalized Experience
On the day of your appointment, our process begins with the creation of a portrait that transcends the superficial and delves into your essence. This artistic endeavor serves as a gateway to an authentic conversation about your identity. As the portrait takes shape, it evokes thoughts and feelings that foster a genuine exploration of your persona.
Once the portrait is complete, we interpret it together, distilling a clear understanding of who you are and the values you hold dear. From this profound insight, we embark on the collaborative journey of crafting your hat, meticulously selecting materials, colors, shapes and details, until we create a hat that truly embodies your personality.
Step 4: Craftsmanship and Delivery
Allow us 2-4 weeks to meticulously craft your one-of-a-kind hat. We'll reach out once it's ready, giving you the option to personally pick it up at our studio or have it shipped to your location.
What's Included:
Portrait by Mariela Alexandra:

Beyond physical features, Mariela captures your essence on canvas, sparking insightful observations.

Personalized Reading:

Engage in a deep, honest conversation about yourself, unveiling your authentic self through the Hat Reading.

Made-to-Measure Hat:

Collaborate with Mariela to craft a bespoke hat that reflects your essence and complements your style.
HOW TO MEASURE

1. To measure the circumference of your head you must start by placing the tape at the center of your forehead, 1 cm above your eyebrows.

2. Continue circling the tape around your head right above your ears .

3. And then to the most prominent point at the back of your head.

4. Continue until you are back to 1cm above your eyebrows.

5. Hold the tape firmly but not too tightly.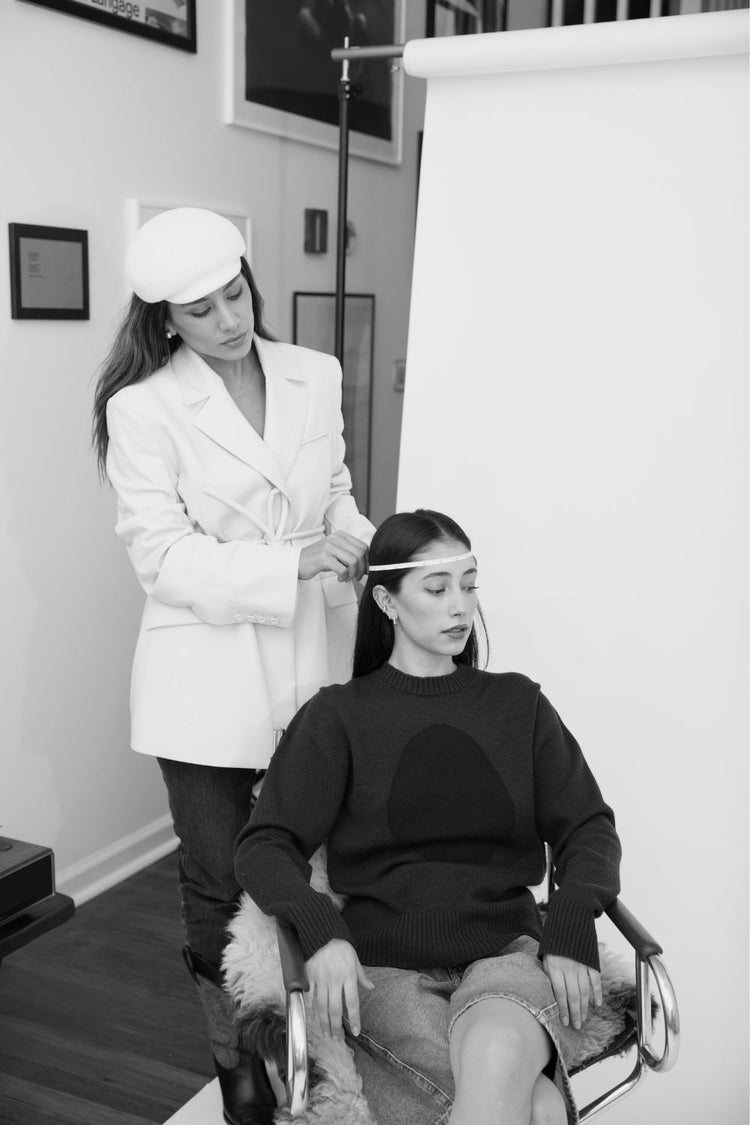 100% handmade
Through meticulous craftsmanship, each hat is hand shaped and finished at our local studio in Mexico.
fitting guarantee
Each hat has a standard Size Chart and a "how to measure" photo so you can measure your head and order the right one for you.
"HAND MOLDED THROUGH CLOUDS OF STEAM"
Before a hat comes to life, it must go through an extensive process of intricate craftsmanship.
Through meticulous craftsmanship, the juxtaposition of felts and hardware, an eclectic use of materials  — from the most extravagant to the most subtle variety of shapes — we create unique headpieces to complement our customer's personality.
- Mariela Alexandra, Founder and Creative Director
ABOUT THE BRAND